RAFI - Case Study
Insight Living partners with Smilefish and AWS to develop RAFI (Resident and Family Intelligence), an AI-based solution for Assisted Living and Memory Care
Executive Summary
Insight Living and Smilefish have joined forces in a strategic partnership to leverage artificial intelligence for senior care innovation. The initial and most challenging step in machine learning involves gathering meaningful and reliable data. RAFI (Resident And Family Intelligence) is the first application resulting from this collaboration, offering deep insights and automating operational improvements in assisted living and memory care. The development of RAFI showcases the effectiveness of this partnership, combining Insight Living's access to unique data with Smilefish's customizable data fabric solution and machine learning expertise. With RAFI, the goal is to achieve a previously unrealistic 1:1 ratio of caregivers to residents, optimizing care in both assisted living communities and at home.
Problem Statement:
Our population is aging rapidly, with the baby-boomer generation entering their mid-seventies, and a looming pandemic of dementia and Alzheimer's is becoming a growing concern. The healthcare system is under increasing strain due to the financial burden and a shortage of trained caregivers. However, there's hope on the horizon as machine learning (ML) and artificial intelligence (AI) are poised to play a pivotal role in finding solutions.
To effectively harness AI/ML, we need dedicated research, robust data collection, insightful analytics, well-trained caregivers, and informed family members. These solutions must alleviate the burden on caregivers, simplify processes, embrace automation, and seamlessly integrate with the Internet of Things (IoT) and mobile technologies.
Insight Living is a company that specializes in developing and managing independent living, assisted living, and memory care communities across multiple states. They prioritize operational excellence, resident outcomes, family engagement, workforce stability, and financial health.
To address their unique needs, Insight Living requires integrated solutions that leverage operational and diagnostic data to enhance the effectiveness of their care staff and engage families more effectively. Unfortunately, the market for senior living software solutions is fragmented and lacks seamless integration. Many individual solution providers promise integration but often become trapped in building proprietary data silos for their internal purposes.
Insight Living's managed communities utilize various senior living solutions such as Eldermark, Yardi, or PointClickCare, which serve as specialized CRM solutions. Additionally, they require systems to manage visitors, meals, activities, facility maintenance, and a growing array of IoT solutions for fall prevention, alarms, and notifications.
True operational excellence necessitates analytics across all these systems. However, collecting data for ML and AI should not be the exclusive domain of one proprietary "data hugger." Instead, an overarching data fabric is needed. This data fabric should seamlessly integrate with mobile applications and IoT solutions, fostering an open environment for rapid and secure integrations, enabling self-service analytics, offering effective AI tools, and automating governance and compliance.
Crucially, the data fabric should also effectively integrate with IoT solutions, create a secure and compliant feedback loop for external AI, and collect data from caregivers, residents, and family members to drive innovation in senior care.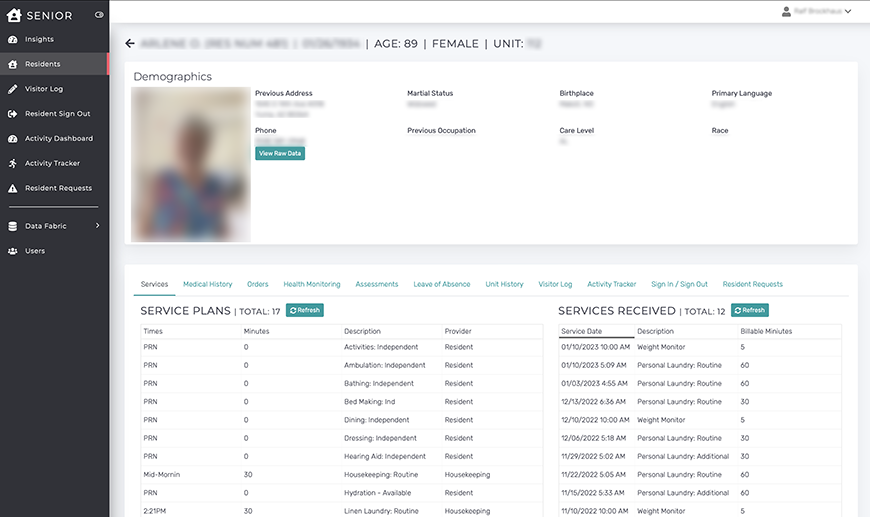 Vendor Selection:
Insight Living evaluated several off-the-shelf and custom solutions and decided to partner with Smilefish. The Smilefish Data Fabric solution provided a connection layer to integrate all solutions across all of Insight Living's communities and turn-key services customizable for all data, process, and governance needs. In addition, Smilefish offered strong IoT expertise and customizable mobile application templates to generate appealing iPhone and Android applications to integrate caregivers, residents, and family members into transparent data collection while adding meaningful services and process optimizations.
"Smilefish demonstrated an approach that impressed us in terms of short-, mid-, and long-term ROI," remarked Bryan Ziebart, CEO of Insight Living. "In the short term, we required an overarching data collection and analytics solution; in the mid-term, we aimed to transform all communities under management into one data-driven company, integrating all facets of our business for streamlined process optimization; and looking ahead in the long term, we aspire to be well-prepared for the integration of AI into our process optimization."
Implementation in the AWS Cloud:
Smilefish offers a pre-configured Data Fabric Solution in the AWS cloud, which follows the AWS Well-Architected Framework. This combination not only allowed Insight Living to reduce development time and cost drastically, but it also ensured best practices for operational excellence, security, reliability, performance, and cost control.
A cost-efficient serverless AWS Aurora database allows for complex scheduling queries at scale and meets high-availability requirements with seamless failover capabilities across regions.
A completely serverless implementation of all data service APIs in AWS Lambda allows for cost efficiency, low maintenance, and robust scalability.
The AWS Simple Notification Service (SNS) integrates deeply with web services to inform activity coordinators, caregivers, and family members about scheduled activities or spontaneous changes.
The Smilefish Data Fabric APIs utilize AWS Aurora queries as backend for the analytics dashboards. Additionally, these APIs allow for self-service analytics (i.e., Tableau)
AWS CloudWatch monitors system health and notifies admin users via AWS SNS should manual interference be needed.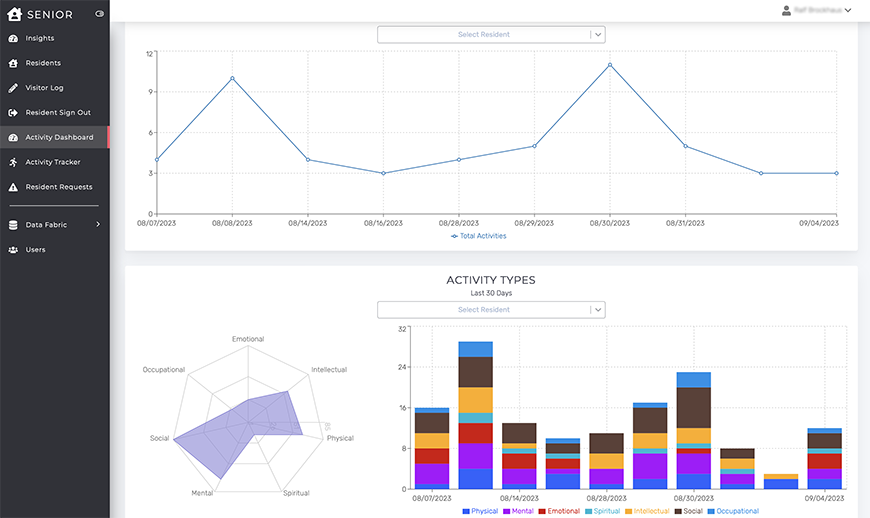 Outcome:
The preconfigured Smilefish Data Fabric in AWS and the customizable application templates allowed Insight Living to present an MVP solution to selected communities within 3 months, 6 months ahead of schedule.
Caregivers appreciate the application's ease of use and focus on relevant resident data, which collects resident information across all systems utilized in the community. Having one platform to combine diagnostic and operational data with visitor logs, activities, meals, and community upkeep supports a more practical approach to engaging residents and family members.
The operating team benefits from a unified dashboard that facilitates KPI monitoring across all business facets to optimize operational excellence, resident outcome, family engagement, workforce stability, and financial health. Additionally, the system automates transparent reporting to the owners, ensuring precise and consistent communication.
Next Steps
The application is collecting valuable data to support the upcoming AI grant. Meanwhile, 3rd party vendors are deploying the IoT hardware to monitor for fall prevention, and Smilefish is deploying the IoT monitoring and reporting modules.
Let us make a splash in your data lake