Smilefish announces Data Fabric Workshops
Newport Beach, CA - October 19th, 2023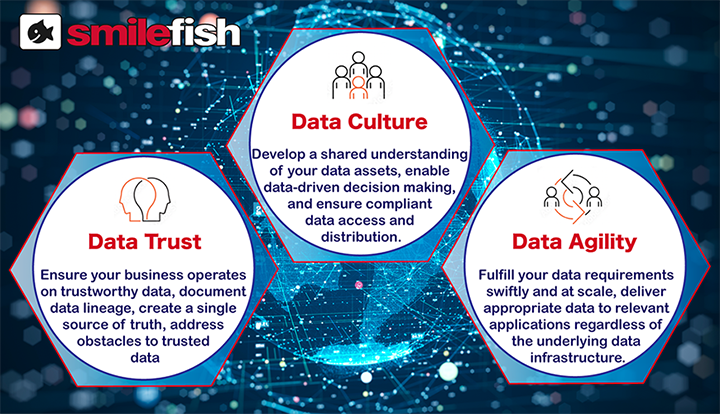 Talk to your data.
Are you excited about ChatGPT, or are you concerned about the direction generative AI might take us? Smilefish applies data science and machine learning to create short-, mid-, and long-term ROI for our clients who are predominantly in red (healthcare), green (sustainability), and blue (clean energy) industries.
Since the public release of ChatGPT and OpenAi, we have seen a tremendous interest in AI and are also hearing concerns. Our standpoint is: AI is not taking away your job, but someone who understands AI might. We advise our clients towards a Holistic AI Integration strategy encompassing process redesign combined with human training to build the technical expertise needed to transition into an AI and data-driven organization. It's a holistic approach to leveraging AI for maximum business impact.
How did data become the new gold?
The outcome of any AI initiative is only as good as the training data. This hands-on workshop focuses on your data and your ability to build the data foundation: How do you capture, govern, and process the data to extract the value that is hidden in the noise?
Data Culture: How do I identify my gold?
AI unlocks a huge optimization potential for your business. Generating the AI models involves machine learning, which demands substantial quantities of actionable and dependable training data. Data scientists devote 90% of AI-related efforts to data preparation (hard work) and only 10% to AI model creation, which we consider the fun part.
Positioning your company to maximize AI benefits requires a strategy for gathering and fostering reliable, dependable, and actionable data. Your data culture implements your data strategy. It determines your company's AI readiness and might redefine how you execute your business. A sound data culture requires a shared understanding of your data assets, data literacy across the organization, and transparency to enable data-driven decision-making. Different roles will require their tool of choice to access their view of the shared data.
We will review tools to automate and govern the process, and we can do that hands-on with your data. We create a data catalog of internal and external data assets, their value to the business, and AI readiness. We will analyze core processes and their potential for AI-based optimization. If it applies to your business, we will evaluate client-, vendor-, and partner relationships based on the quality of data they can contribute.
Data Trust: How do I protect my gold?
Data trust refers to your organization's confidence in the reliability and integrity of your data. Unlocking AI requires answers to some difficult questions: Do you trust your data? Can you establish a "single source of truth"? Do you have access to the original data? Do you know your data lineage? Do you meet compliance requirements? Are you allowed to use your data to generate AI models? Based on your answers, we will expand your data catalog and evaluate your needs for governance to ensure data quality, accuracy, consistency, security, data ethics, privacy, compliance, transparency, and proper documentation. The goal is to find and eliminate the obstacles to trusted data within your company.
In practical terms, we will review the governance rules framework, and for kicks, we will load the data dictionary and governance rules into our Governance GPT bot. An AI tool we developed and trained to provide clarity on permissions to access combinations of data features across multiple data sources. No worries, we were also hesitant due to concerns about OpenAI's security and output accuracy. We can share how we built the bot relatively quickly but spent weeks training it to specific data. Meanwhile, we receive fast and correct answers that expedite our governance configuration process tremendously while avoiding configuration errors.
Data Agility: How do I make my gold work for me?
Traditionally, data agility refers to the flexibility, scale, and speed by which your organization can acquire, process, analyze, and utilize data to make informed decisions to gain a competitive advantage. It's about delivering the correct data to the relevant applications at the right time, at speed and scale. Agile organizations can integrate data from various sources, both internal and external, and make it readily accessible to those who need it. This includes data transformation, cleansing, and loading (ETL) processes that can be executed in near-real-time or on-demand. Traditionally, this ensures decision-makers have access to a comprehensive and up-to-date data view.
With AI and machine learning, we consider two additional aspects: a) For AI, we receive the highest leverage if we can integrate AI in real-time. b) For machine learning, the relevant data must be accessible during AI model generation. In addition, we need to provide real-time verification of new data (features and labels) to update the AI model quality constantly.
We will review the data fabric solution on practical examples to show how to expand your data catalog with API integration and model definitions to meet the AI and machine learning requirements.
Workshops in Newport Beach
The workshops will take place at our Newport Beach office, conveniently close to the John Wayne Airport. The hotel is right next to our parking lot. There are numerous outstanding restaurants in the vicinity, and the workshop fee covers your main meals. Here's a helpful suggestion: consider flying in and transforming it into a weekend getaway. We are only a short drive from the beach and a mere 20-minute drive from Disneyland. Smilefish is a company that embraces a cheerful atmosphere, and we look forward to welcoming you as part of our joyful family.
If travel is out of the question, then we also offer webinars.